Rich Concert Piano Sound,
Enhanced with Bluetooth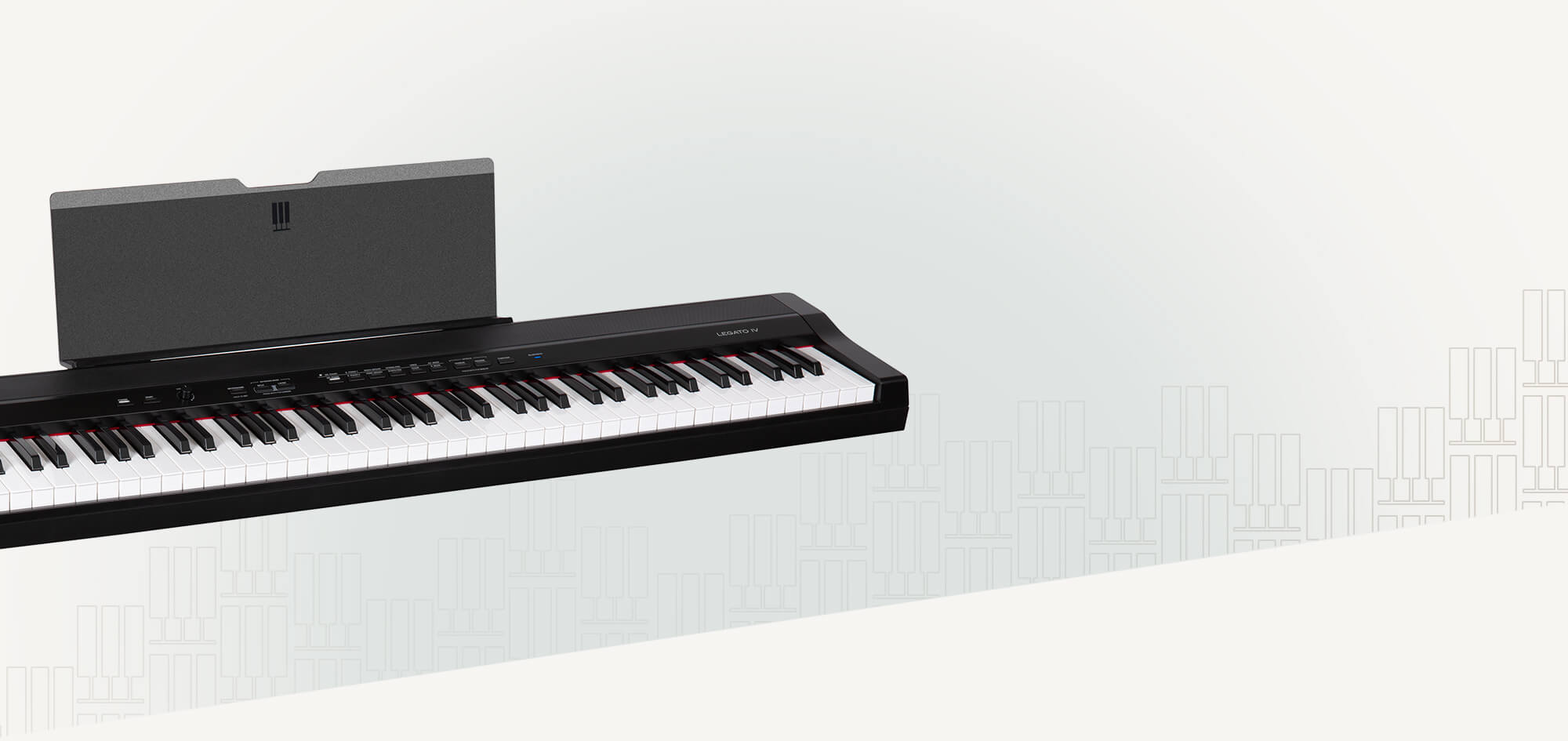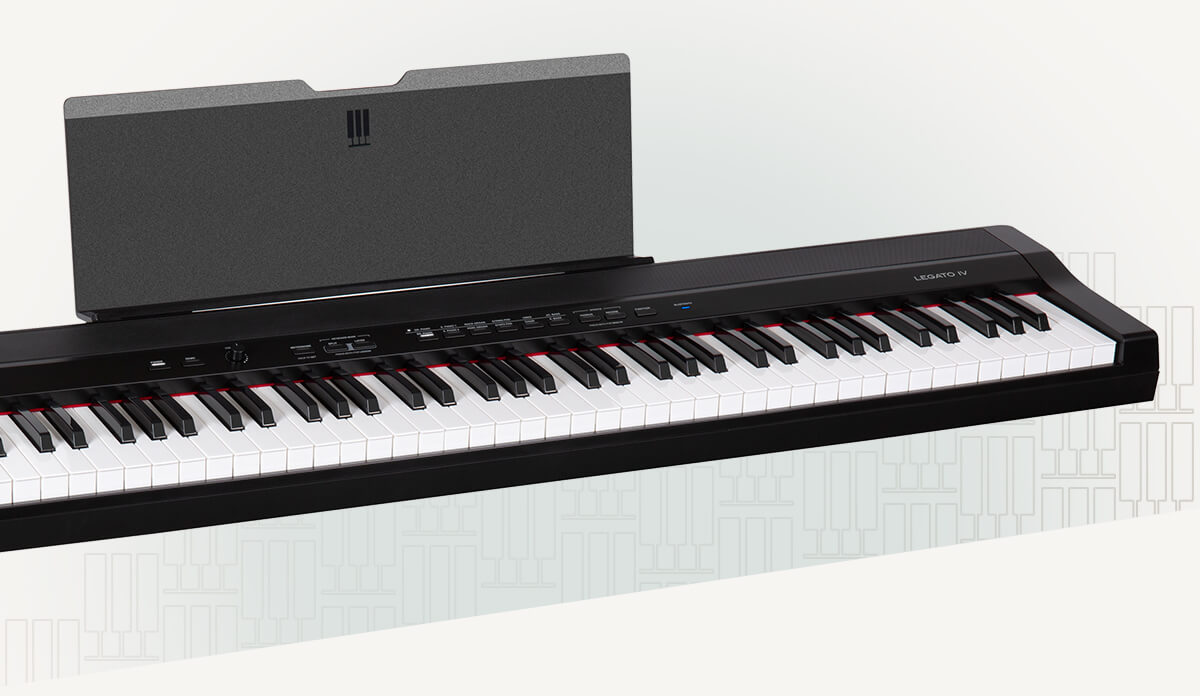 Grand Piano Performance Within Reach
The Legato IV 88-key digital piano combines realistic instrument sounds, a state-of-the-art speaker system, and Bluetooth technology to empower you on your musical journey. The velocity-sensitive 88-key keyboard offers the full range of a concert piano, and the powerful onboard speaker system delivers room-filling sound with deep bass. Players can explore 12 expressive instrument sounds, including our stereo concert grand piano, vintage electric pianos and organ, vibrant strings, synthesizers, and more. And with Bluetooth Audio and MIDI technology to integrate your favorite music and learning apps, the Legato IV will inspire a lifetime of music-making.

Lifelike Instrument Sounds at Your Fingertips
The grand piano sound in the Legato IV was recorded in stereo at varying dynamic levels from soft to loud, allowing you to tap into the full expressive range of a world-class instrument. In addition, Legato IV offers a range of other instruments to expand your arrangements, from vintage electric pianos and organs to vibrant strings, soaring synthesizers, and more.
Expressive Playability with Full-Range 88-Key Keyboard
The Legato IV gives new players the dynamic feel and full range they need to develop skills that will transition to a real piano. Its 88-key velocity-sensitive keybed allows players to begin developing their dynamic control, and the included sustain pedal further expands Legato IV's expressive range. The optional 3-pedal controller can handle any classical piano repertoire, and wooden stand is also available for a sturdy and elegant practice foundation.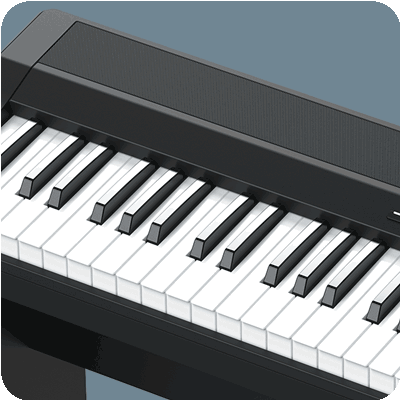 Rich, Full-Sounding Speakers
Legato IV's unique speaker cabinet design delivers rich, full-range sound with deep, powerful bass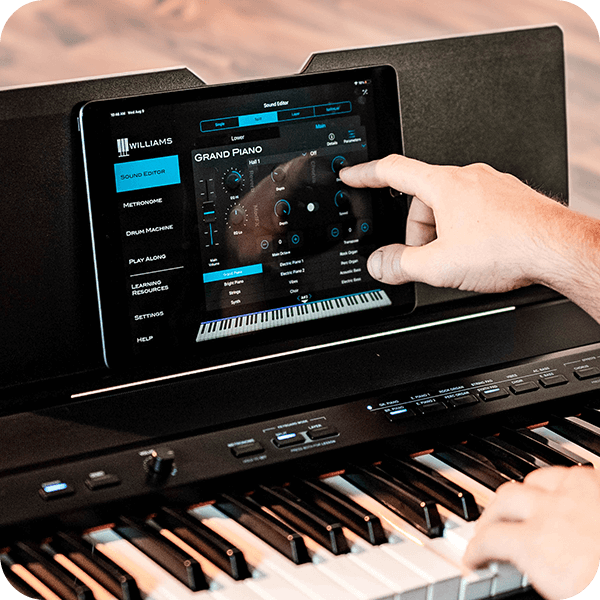 Williams iOS app
Customize sounds, fine-tune effects, play along with your personal music library, and explore other features to improve your piano skills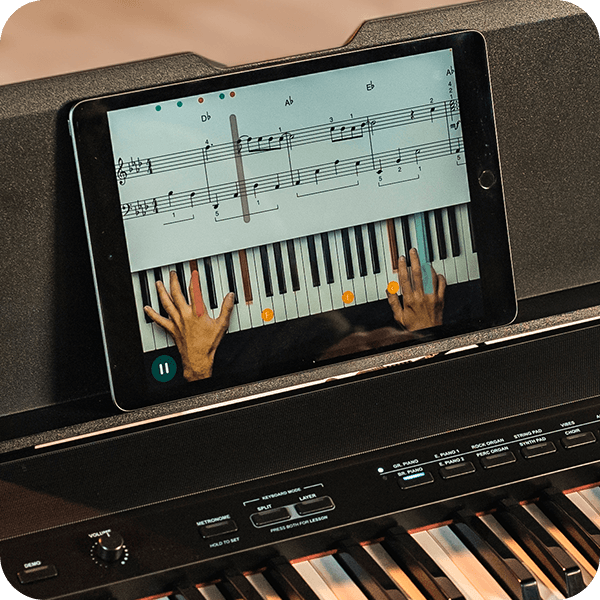 Learn to Play with Skoove
The included Skoove Premium Trial teaches you to play hundreds of popular songs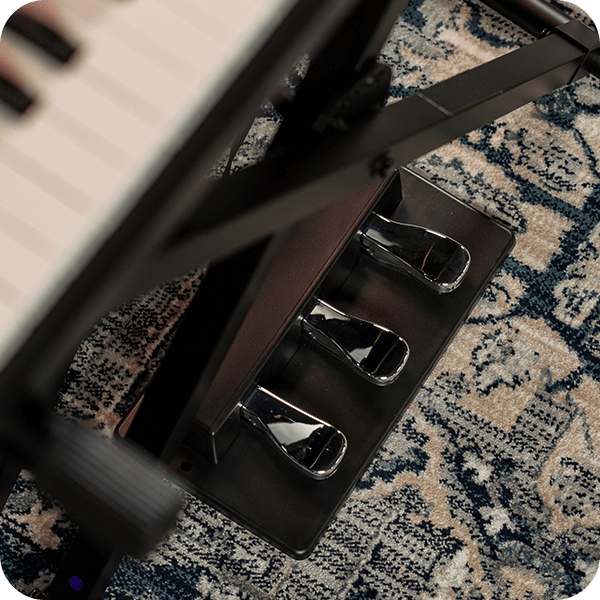 Optional 3-Pedal System
Upgrade to a 3-pedal system to perform any piano repertoire. Available in two versions: a stand-alone model that works with any keyboard stand, or one that attaches to our optional wooden stand.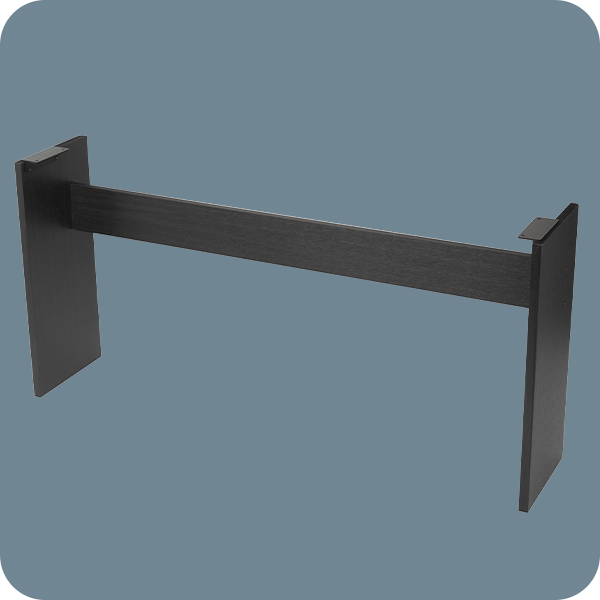 Optional Wood Stand
Give music a permanent place in your home with the stylish and sturdy Legato IV optional wood stand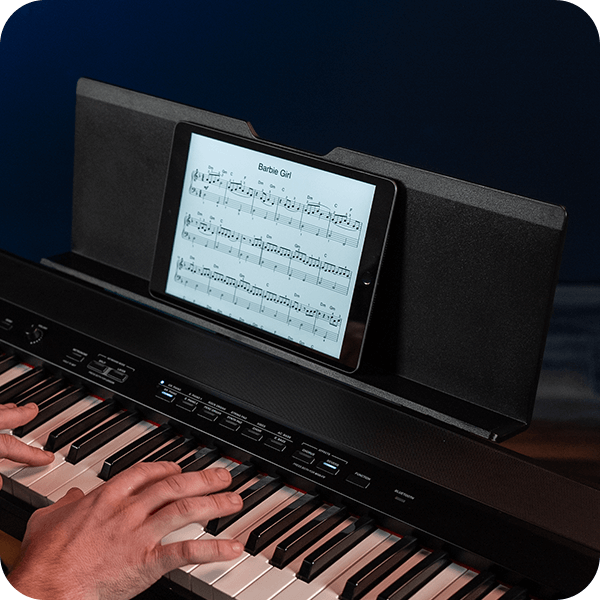 Practical Setup
Legato IV offers a solid music rest for tablets, smartphones, and music books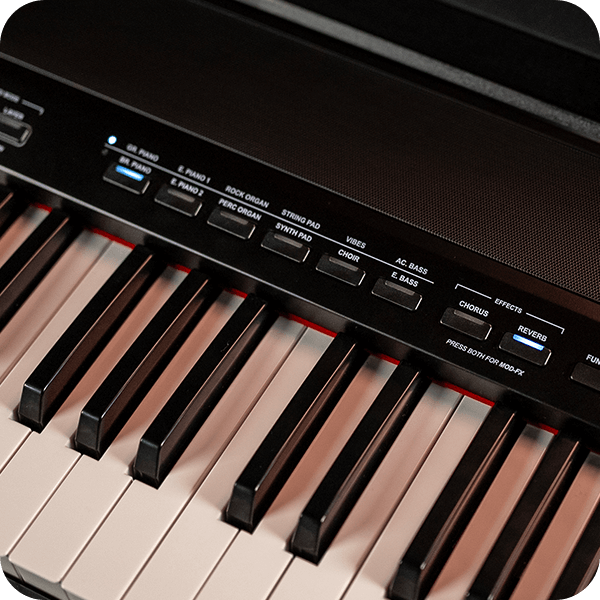 Stellar Instrument Sounds
12 instruments including our stereo grand piano, vibrant strings, vintage EPs, organ, and more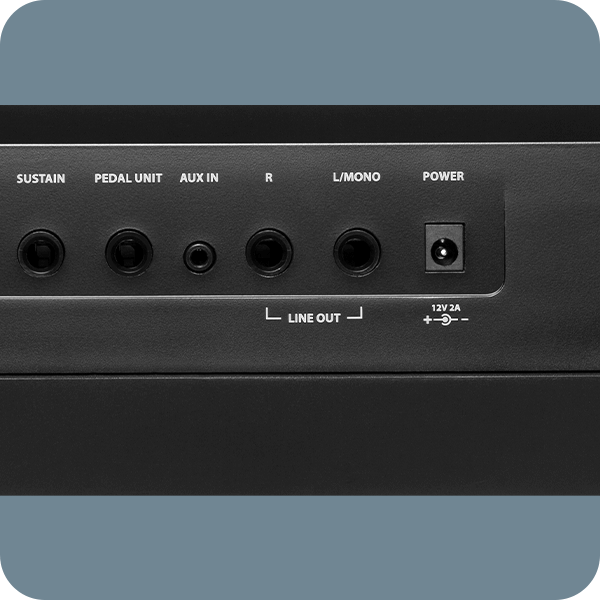 Portable Playability
Take your music anywhere you can plug in and play with the included AC power supply
Unique Speaker System for Room-Filling Sound
The Legato IV features an onboard speaker system unlike any other compact piano. The large, ported speaker cabinet is designed with the same physical volume as a studio monitor speaker, giving the Legato IV a powerful voice with deep bass and room-enveloping sound. Dual-driver speakers, a powerful amplifier, and onboard DSP combine to make the Legato IV the best-sounding digital piano in its class to deliver the full range of a grand piano.
Enrich Your Experience with Bluetooth Audio and MIDI
Legato IV is equipped with an Aux input as well as Bluetooth connectivity, making it easy to play along with your favorite music and videos. Bluetooth MIDI allows you to use the Legato IV with educational apps and DAW software. You can also connect to Williams' app for iOS which allows you to customize the sound of the piano and effects, play along with your music library, and more.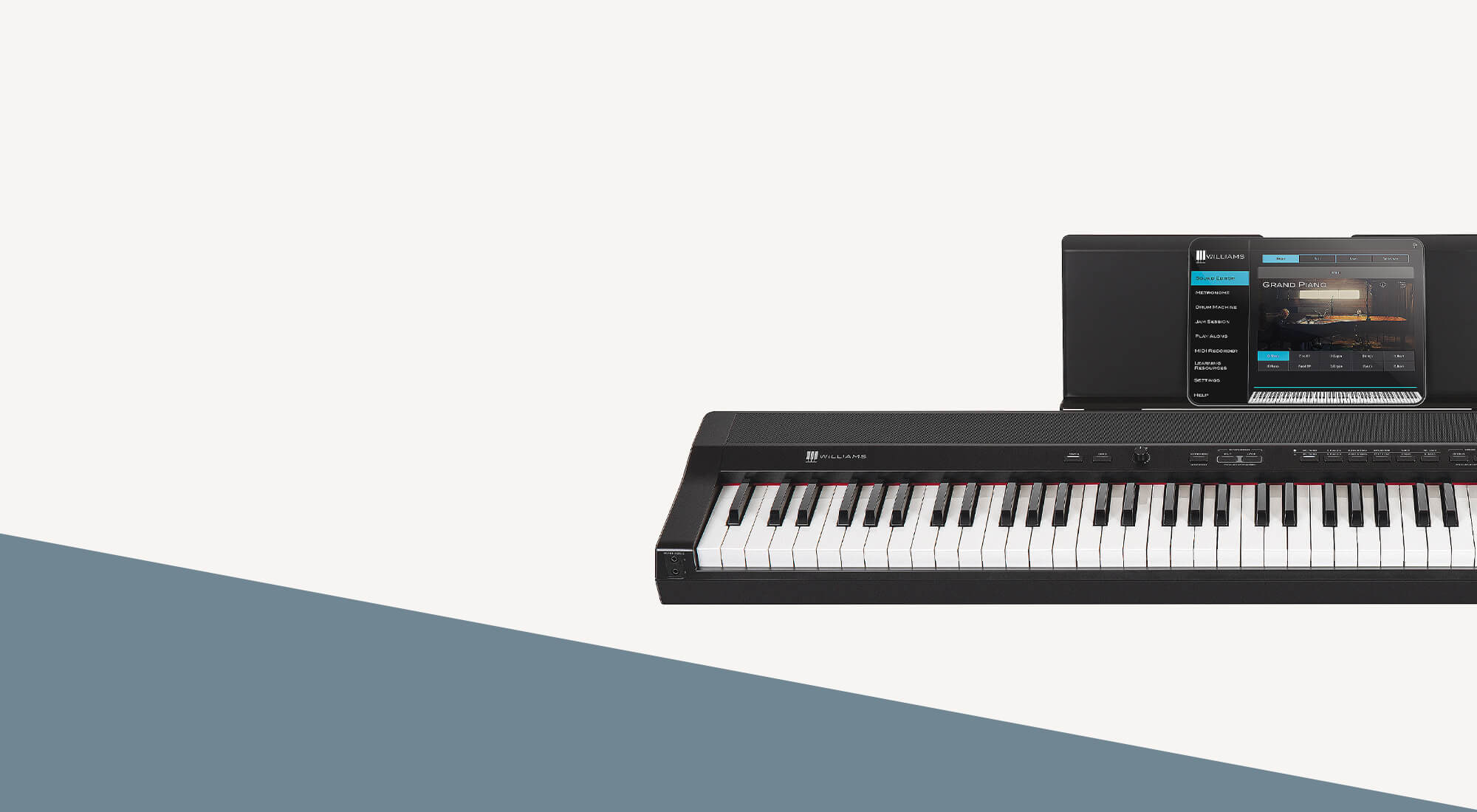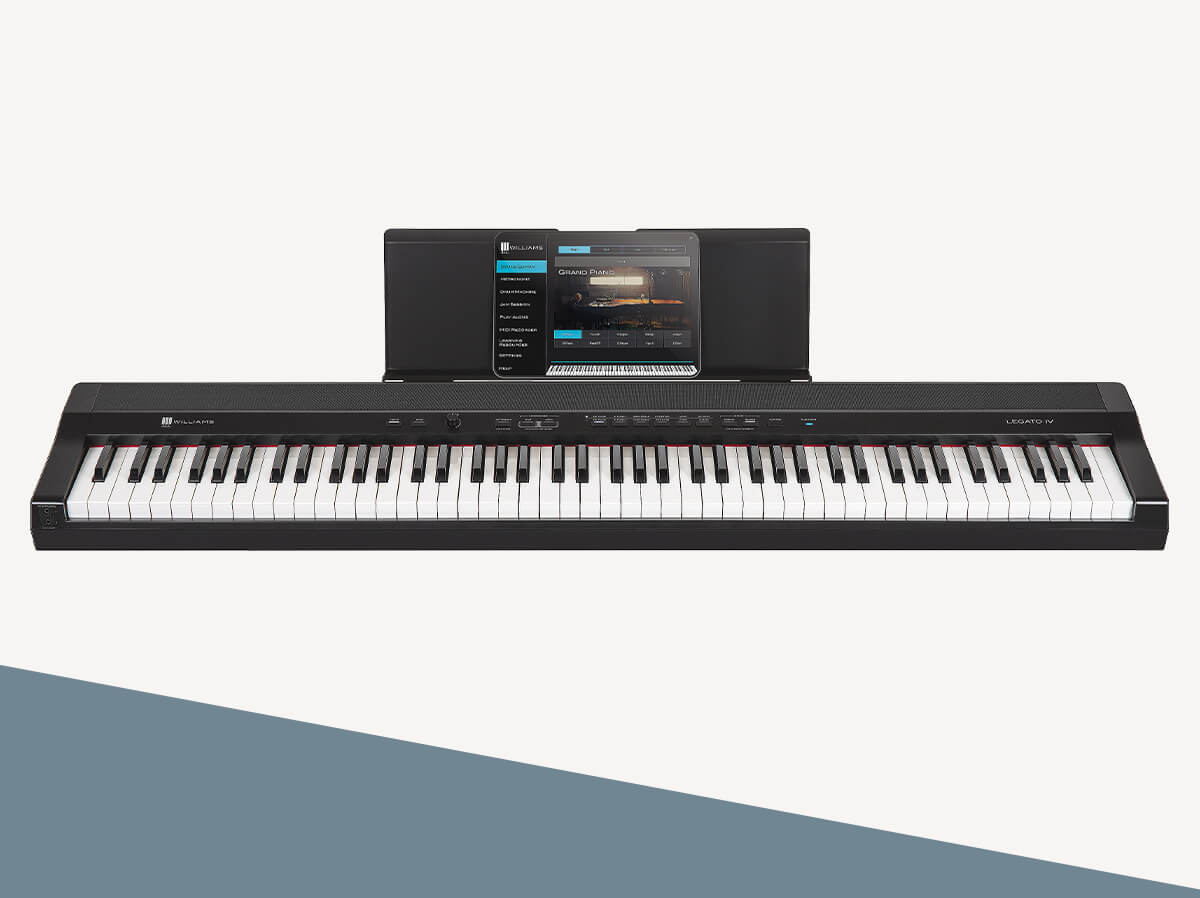 Never Stop Learning, with the Williams Piano App
Available from the iOS App Store, the Williams Piano app is the perfect companion to your Legato IV digital piano. Practice with a metronome, drum machine, or a collection of Jam Session songs. And the Play Along function plays songs from your iTunes library at a slower speed without changing the pitch, to help you learn new music at your own pace.
Features
88-key digital piano with velocity-sensitive keyboard
12 realistic, expressive instrument sounds including stereo grand piano, vintage EPs, organ, strings, bass, and more
Enhance your sound with audio effects including reverb, chorus, rotary speaker, EQ and more
Room-filling stereo 2-way speaker system
Create custom layered sounds with Layer Mode
Split Mode allows you to assign different instruments to left and right hand positions
Large, internal ported speaker enclosure for deeper bass response
DSP tuning for flat response, extended range, and a richer sonic experience
Bluetooth Audio plays back music, videos, and apps through the piano speaker system
Bluetooth MIDI connects to apps like the Williams Piano, Garageband, and other music apps
Built-in USB stereo audio/MIDI interface for computer or tablet connection
Portable Playability
Don't sacrifice great sound for portability – get both with the Legato IV.
Legato IV
88-key digital piano with graded, weighted hammer action keyboard
Legato IV
88-key digital piano with graded, weighted hammer action keyboard