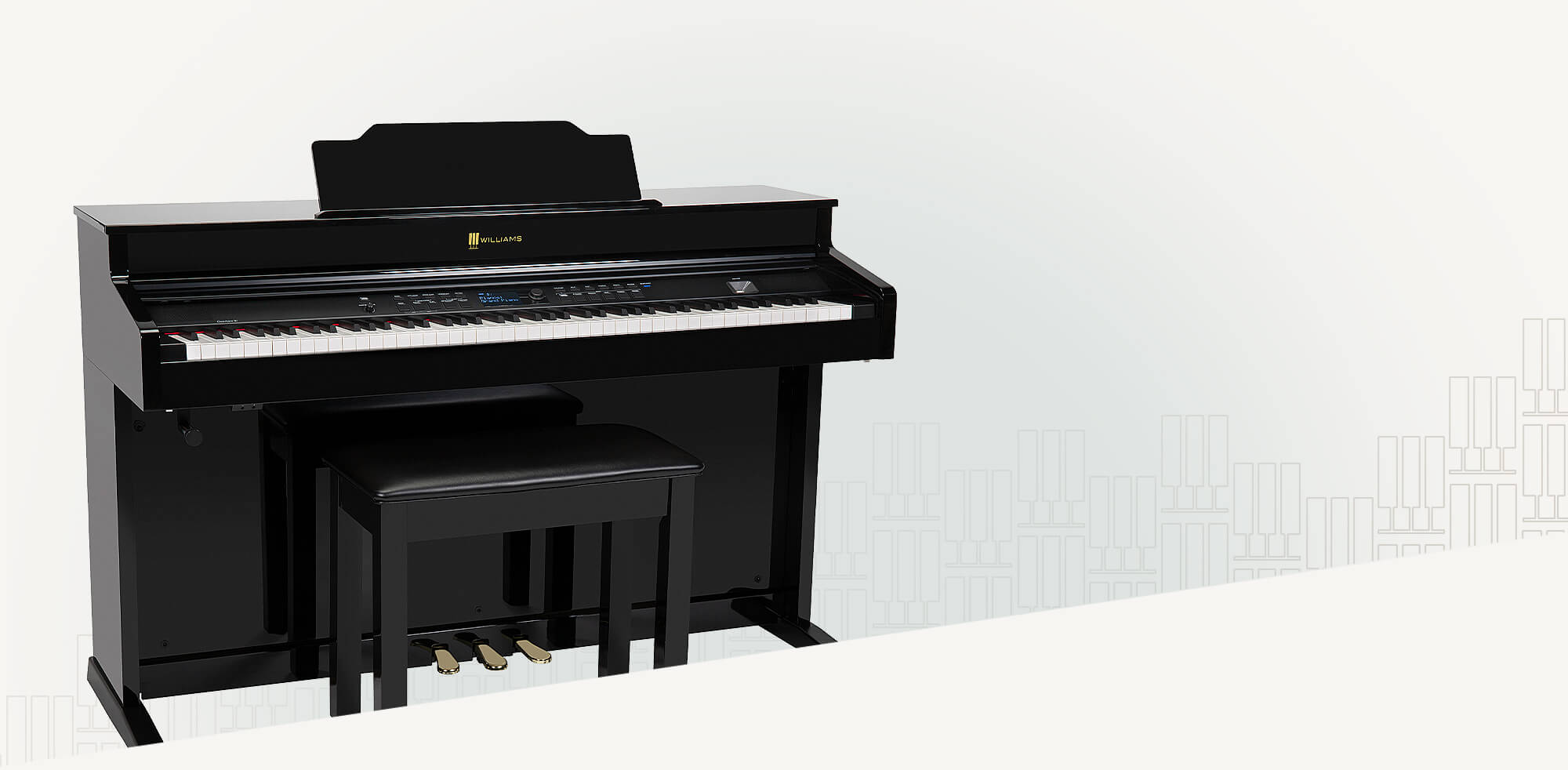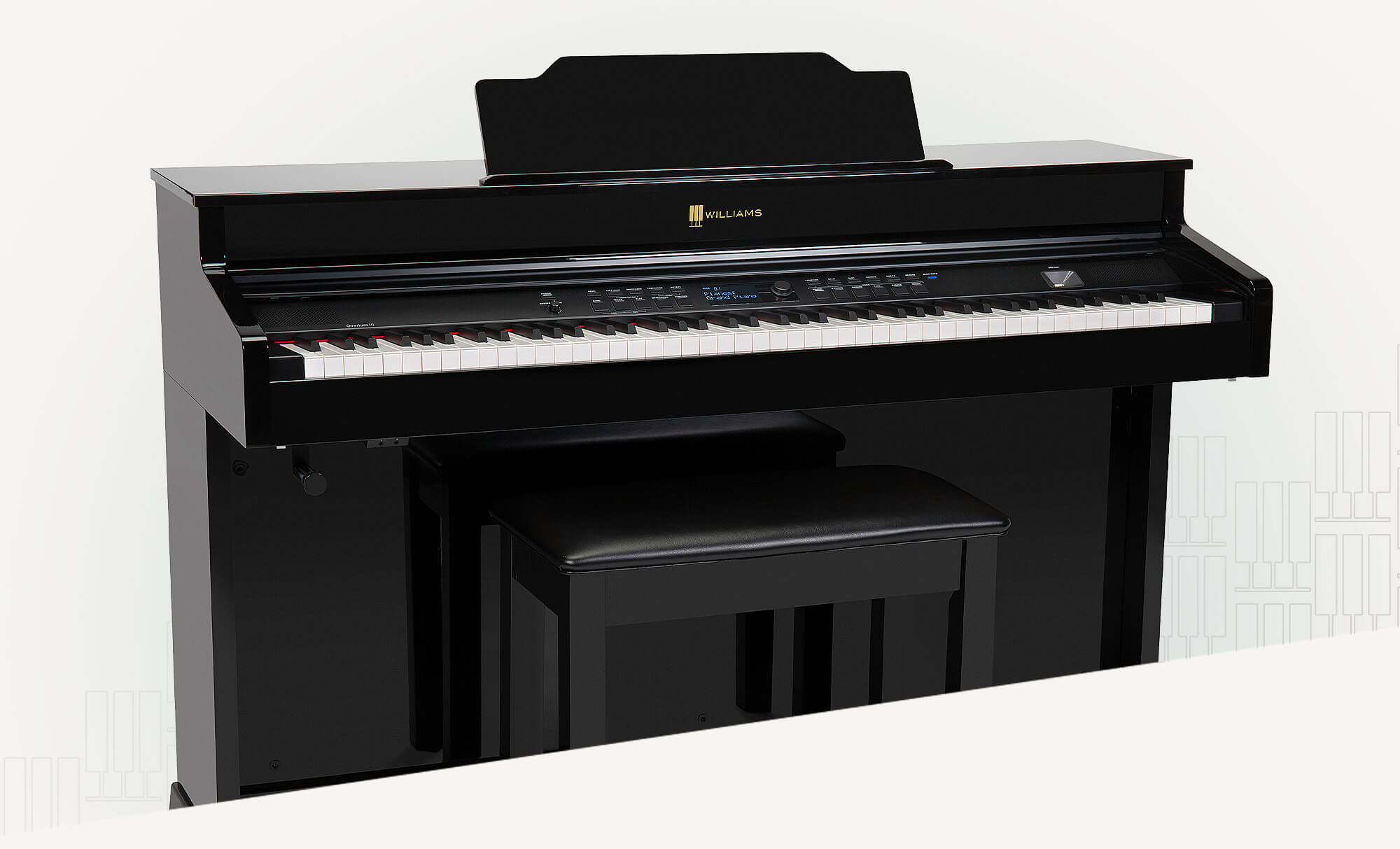 Redefining the digital piano
The Williams Overture III digital piano provides a wide palette of instrument sounds and outstanding acoustic piano feel, while at the same time adding a classic touch to your home décor.
Its 88-key, graded, hammer-action keyboard has greater resistance at the bottom of the keyboard than the top, providing a higher standard in realistic response and feel.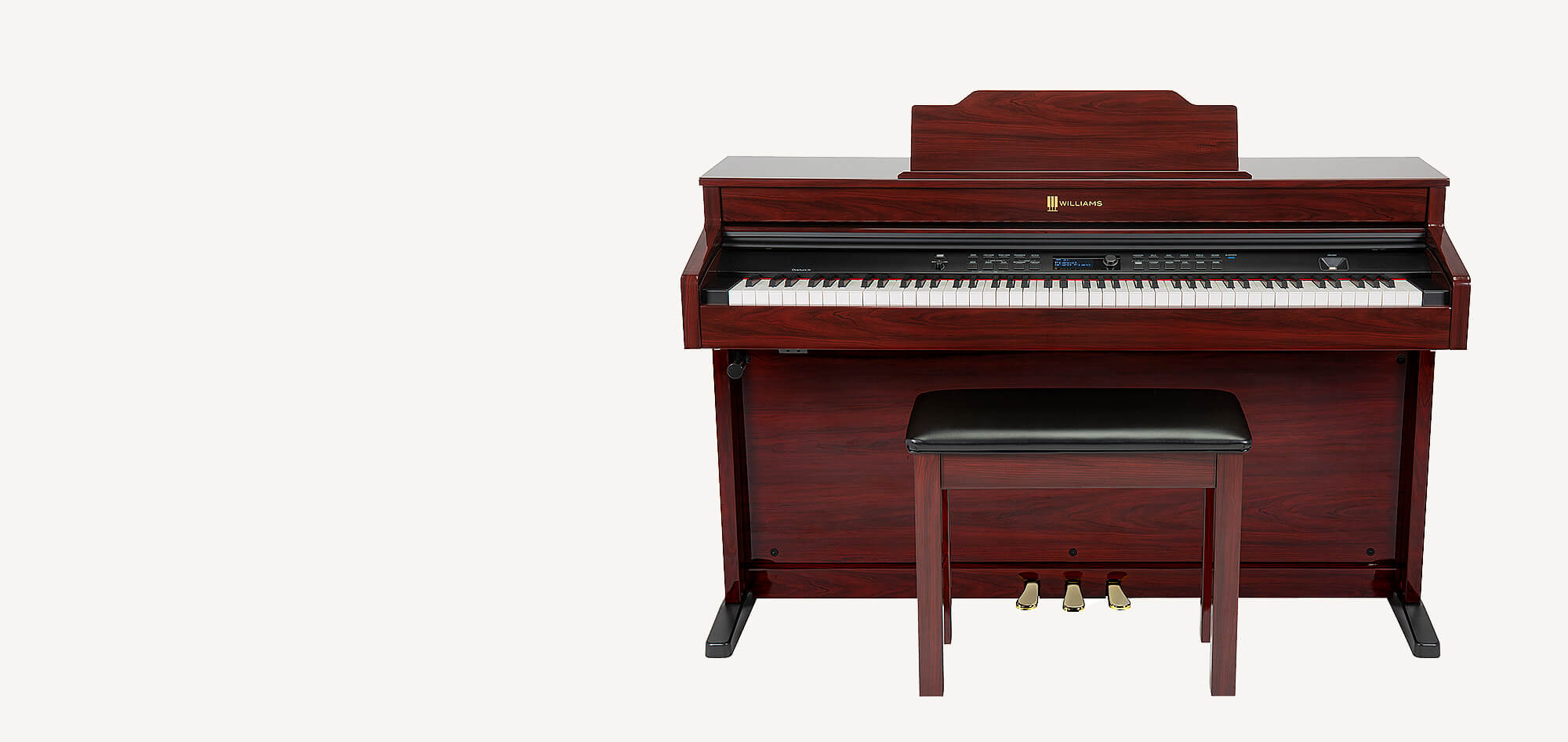 Unmatched Piano Realism
In addition to its 171 realistic instrument sounds, the Overture III digital piano includes Williams's Whole Note Technology that incorporates "unlooped" piano samples recorded for the natural duration of each note along with multilayered dynamics for a fully expressive grand piano sound. The soundset also includes a collection of vintage electric pianos and organs, guitars, orchestral instruments, drums and more.
All this technology includes 240-voice polyphony that mitigates notes being "cut off" while playing longer or more complicated passages.
Connects with your device

The Overture III digital piano includes Bluetooth® wireless audio and USB audio, which is ideal for playing music, interactive lessons, and apps, while its Bluetooth® wireless MIDI connects to computers, tablets or phones.
The free Williams iOS app provides easy access to menu functions and sound editing, while the included Skoove Premium trial teaches you to play hundreds of popular songs.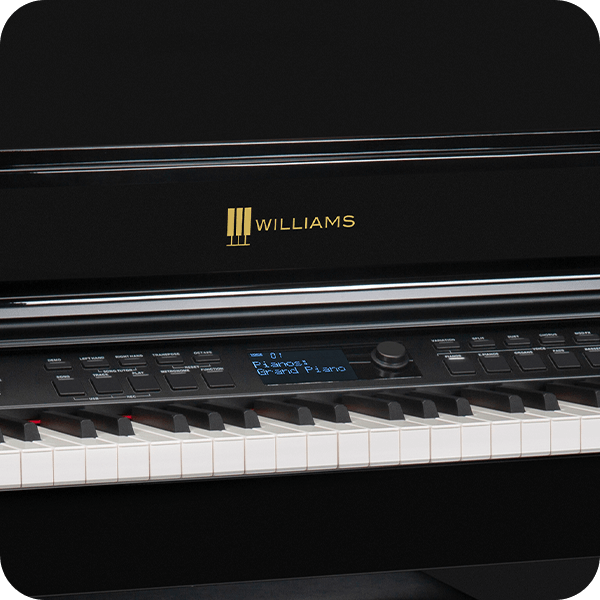 171 Sounds
171 realistic instruments for a variety of sounds, including GM sounds for playing MIDI files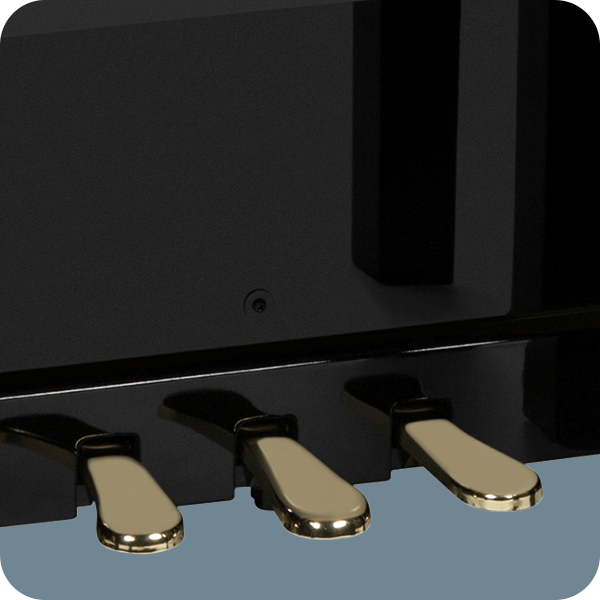 Authentic Touch and Response
With three pedals for Sustain, Sostenuto and Soft, the Overture III delivers the authentic touch and response of an acoustic upright.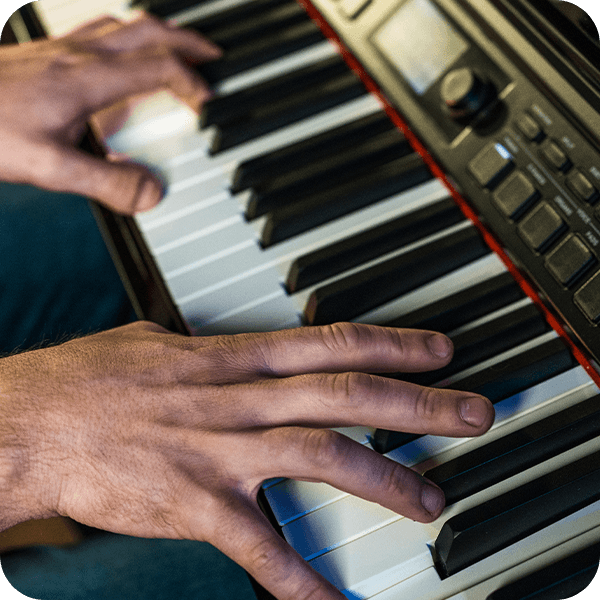 Play Your Best
240-voice polyphony provides an abundance of voices for deep orchestration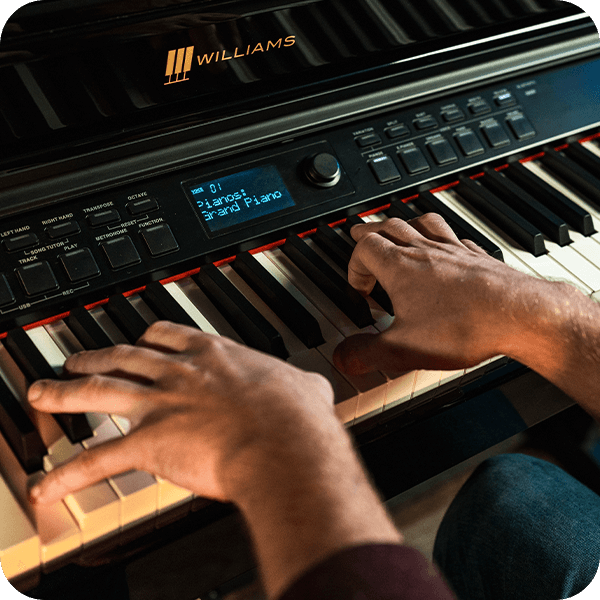 Great Feel
88 hammer-action, graded weighted keys provide an outstanding feel and response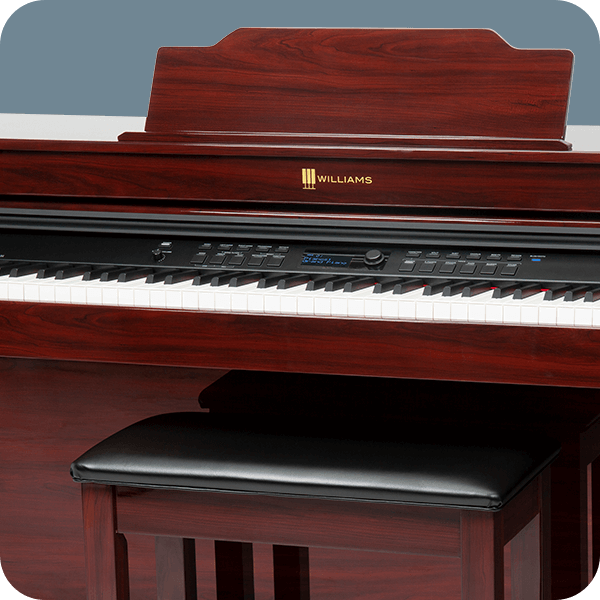 Elegant Look
Gloss Ebony or Gloss Red Mahogany finishes for an elegant look with any decor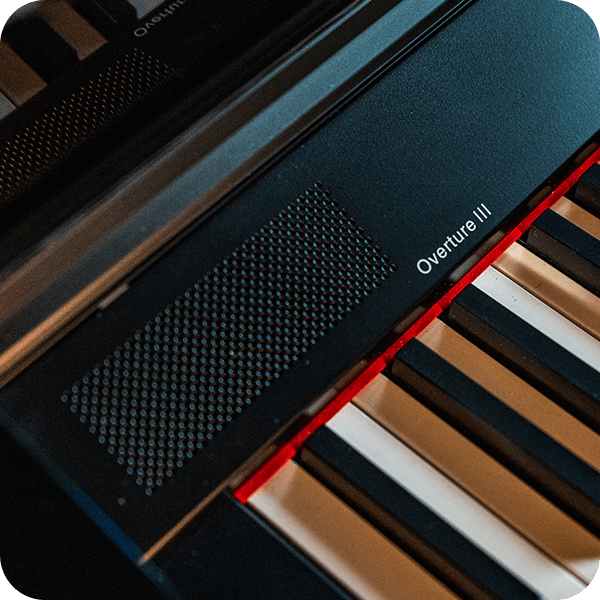 Immersive Sound
Built-in, 4-speaker system for immersive, room-filling sound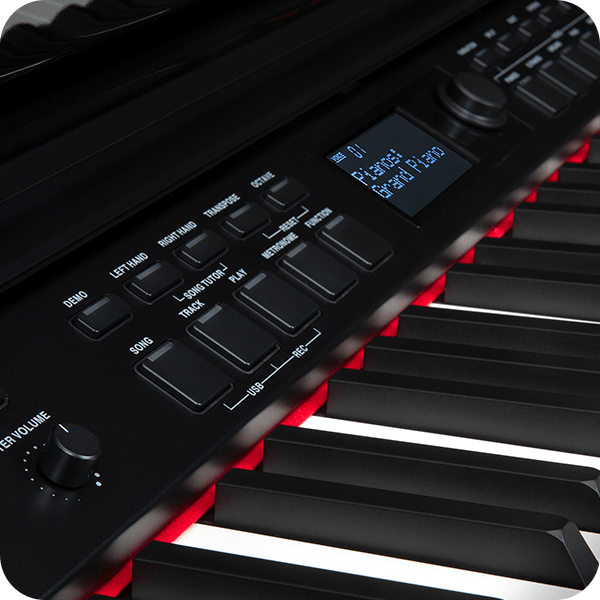 Fun and Engaging
Comes complete with a 2-track recorder for fun and practice
Silent Practice
Two headphone jacks with master volume for silent practice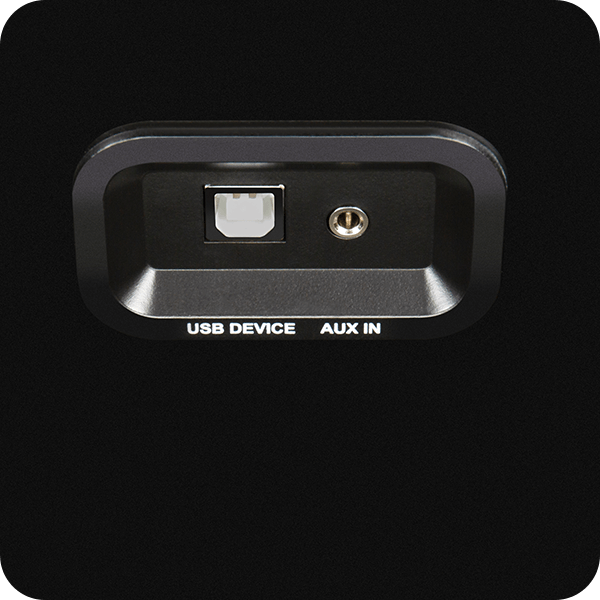 Connect Your Devices
USB/MIDI connection, MP3 input, stereo outputs with 1/4" and RCA jacks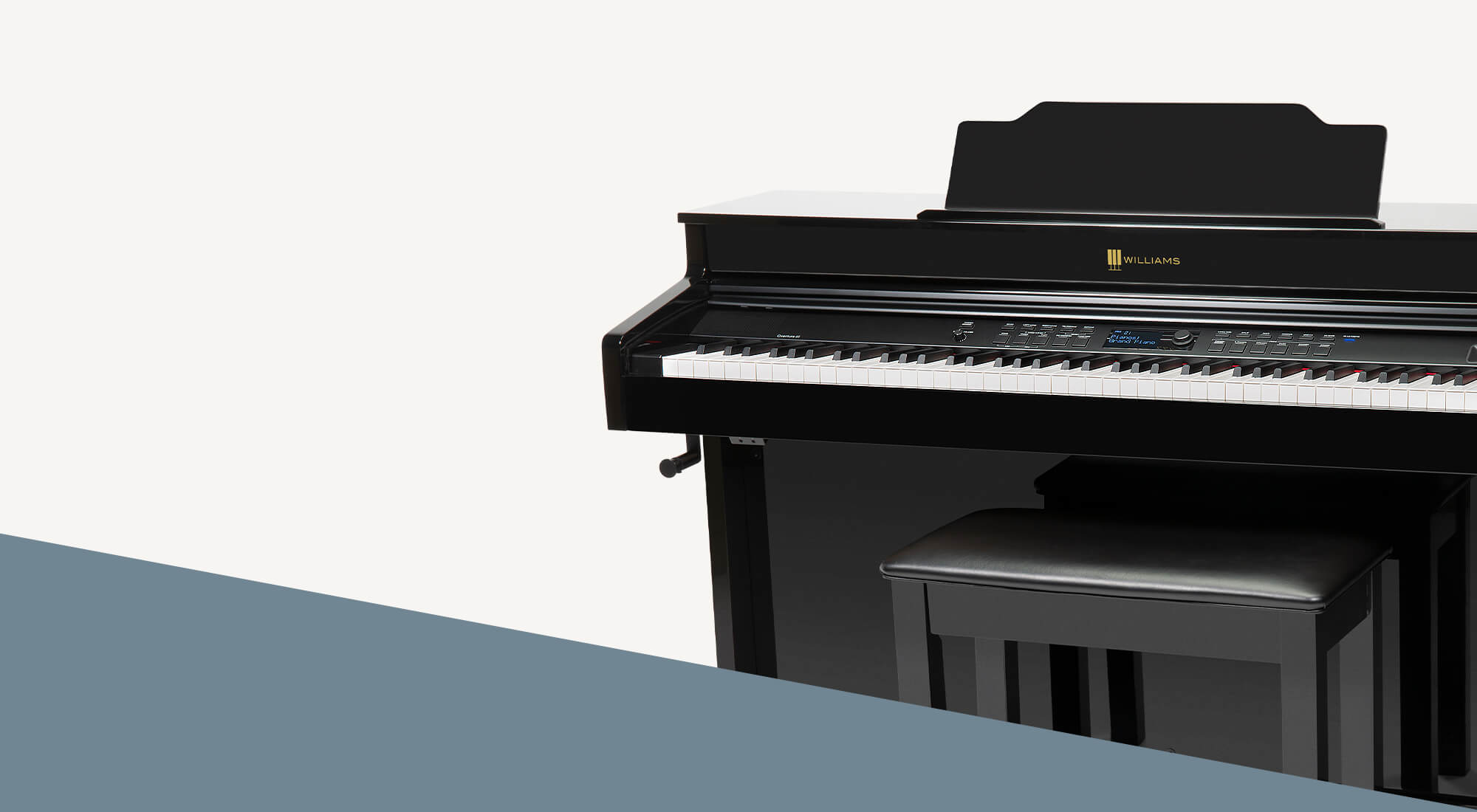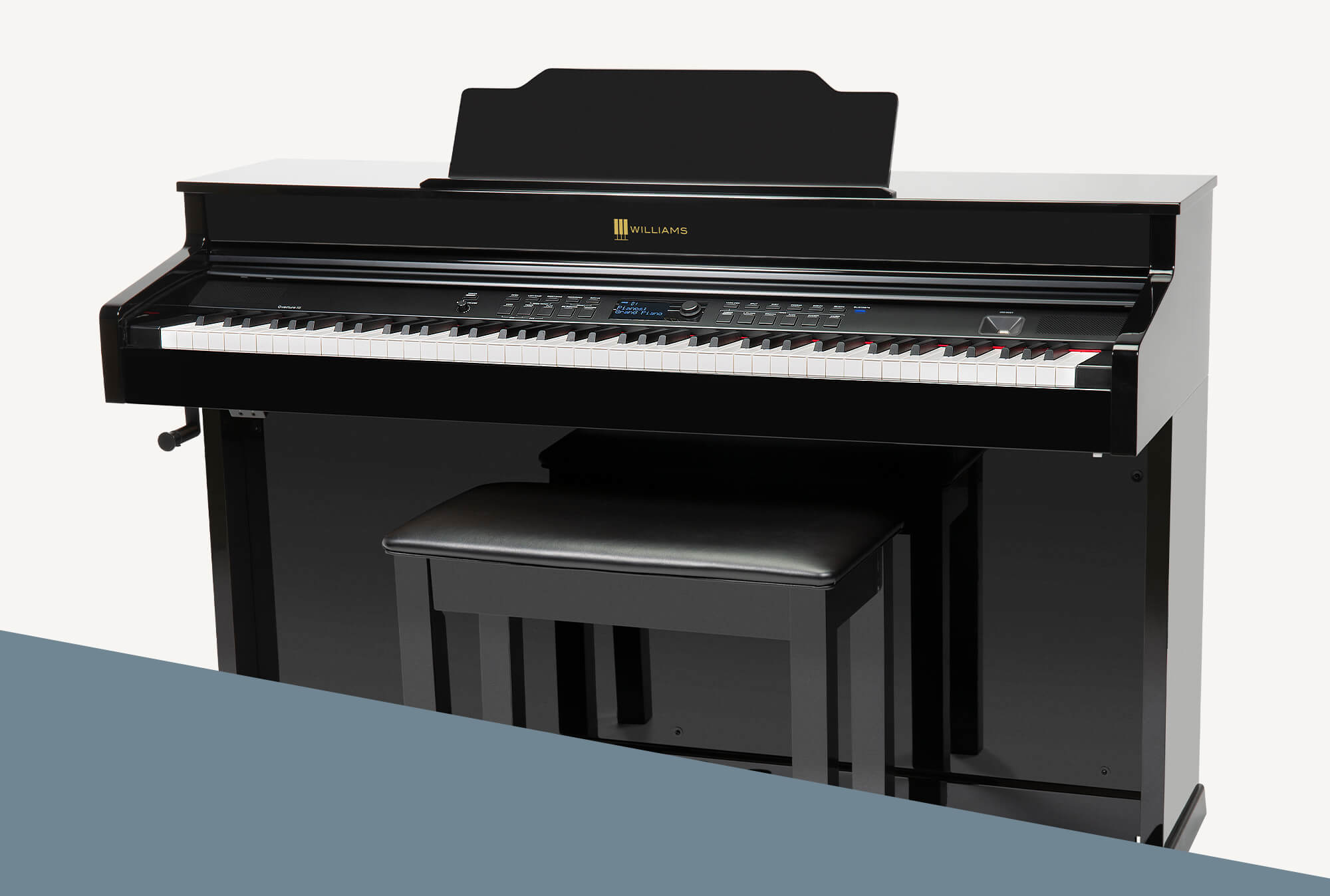 Whole Note Technology brings you truly realistic piano sounds
The Overture III digital piano has up to 64 times larger sound memory than similar digital pianos. This means more lifelike piano sounds than any you've heard before from a digital piano. For example, similar digital pianos record a short piece of a piano note, then loop that over and over as the note decays. 
The Overture III digital piano recorded almost every note of a grand piano for its full duration, then recorded again and again at quieter and louder dynamics for unmatched piano realism.
Features
Easy-to-read LCD screen for quick and easy playing and option selections
Reverb, Chorus, and Modulation FX effect processors include Rotary, Phaser, and Tremolo
Built-in, 4-speaker full range stereo system provides immersive sound
Wireless Bluetooth® MIDI and Audio for controlling apps and streaming from your smartphone
Includes 3 Pedal system — Sustain, Sostenuto and Soft for realistic playability
Convenient two-headphone output to accommodate another player or instructor
Matching padded piano bench included
Includes Skoove LE interactive piano software which works with the key lights to help you learn to play
Enjoy 3 months of Skoove Premium
Customers who purchase an Overture III digital piano get a 3-month trial of Skoove Premium. This interactive software follows your keyboard and slowly builds playing and music-reading skills. Over 400 lessons are included from classical masterworks to the latest hits, and more are added every month. There are even live instructors standing by to help. Just follow the instructions on the Skoove flyer included with your digital piano to get your free trial and start learning today.
If your Williams Piano is missing the Skoove offer coupon, please contact Customer Service for your coupon code.
Overture III
88-key console digital piano with Bluetooth® audio and MIDI
Overture III
88-key console digital piano with Bluetooth® audio and MIDI