The Elegant Look of a Modern Tradition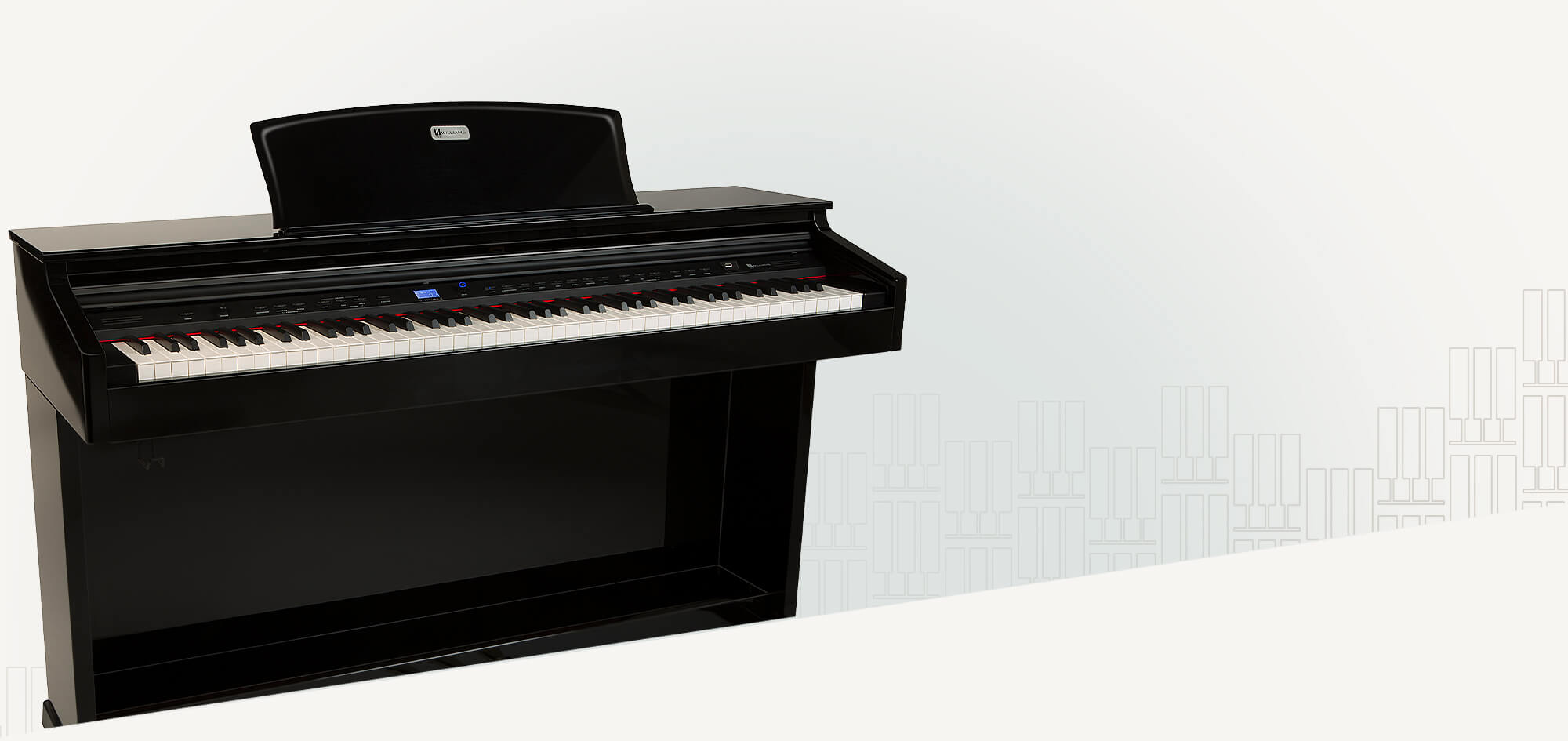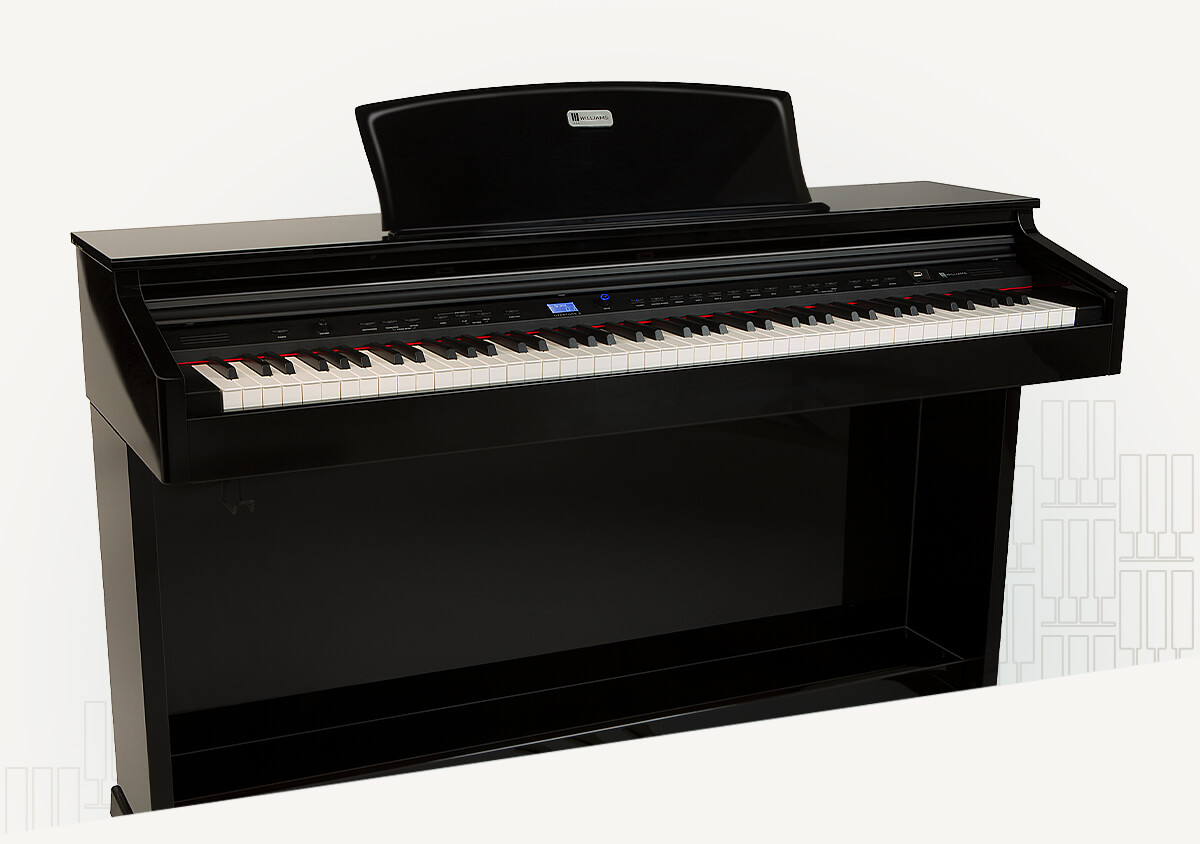 Redefining the digital piano
The Overture 2 is complete with a classic, luxurious Ebony gloss finish, a wide sound palette, and an extraordinary feel.  The Overture 2 is built on 15 quick-to-grab custom-crafted, high-resolution sounds as well as plenty of other instruments from brass to percussion and beyond.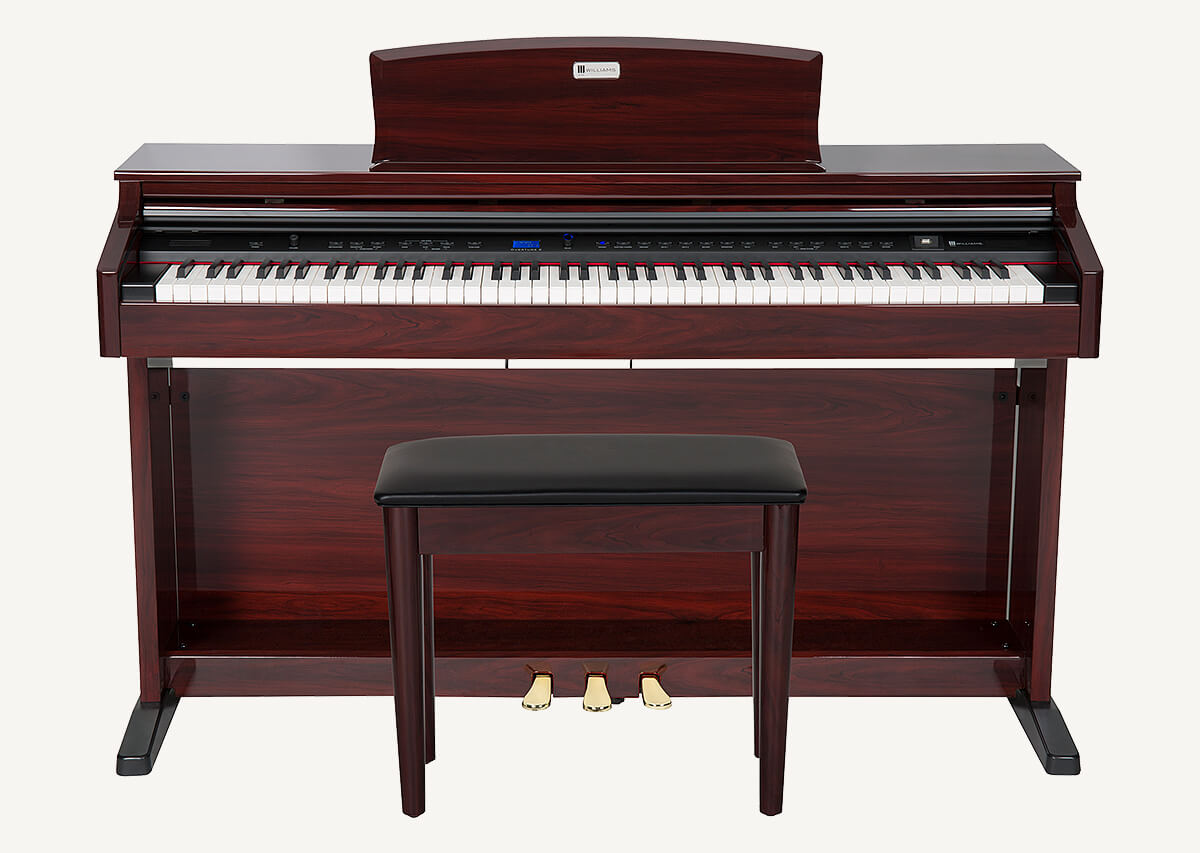 Digital piano elegance
Enjoy completely unique tones, sampled directly from a world-renown grand, plus a collection of many vintage electric pianos and organs. It also boasts a convenient, full General MIDI sound set. The all-new, fully weighted, hammer-action keybed provides a higher standard in realistic response and feel. Modulation/FX control provides realistic rotary and vibrato effects on select instruments.
Learn alongside Song Tutor

The Williams Overture 2 also includes Song Tutor with 50 play-a-long songs, audio inputs, USB/MIDI port, and a USB Host Port that plays MIDI files from a thumb drive. Other features include split/layer/duet keyboard modes, transpose function, 2-track recorder, metronome, two headphone outs, and ¼" stereo out jacks. Williams has partnered with Skoove piano educators to include a free 90-day trial available for customers of our Overture 2.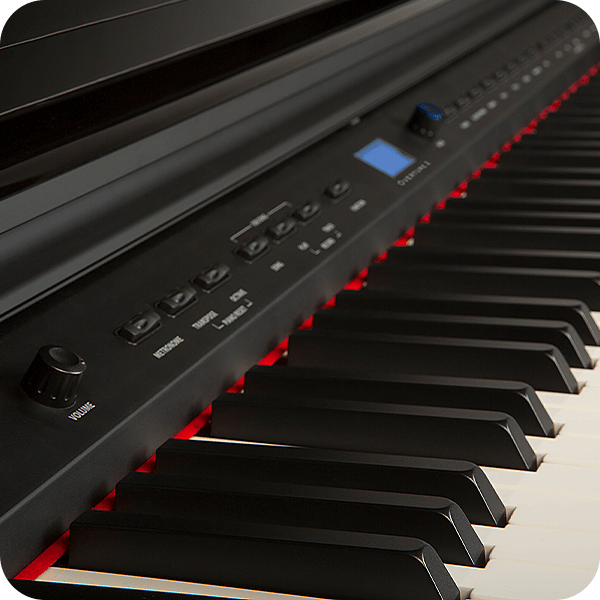 147 Sounds
147 total sounds, including 15 high-definition custom sounds; 64Mbyte sample ROM for higher-sampled sounds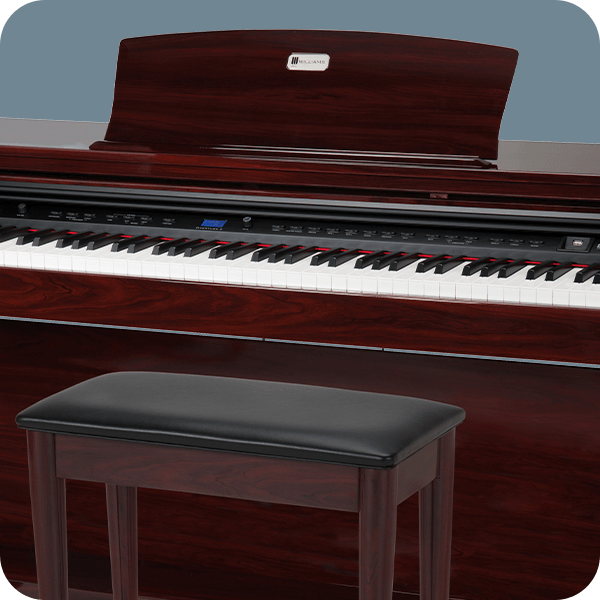 Play Your Best
64-voice polyphony for deep, layered orchestrations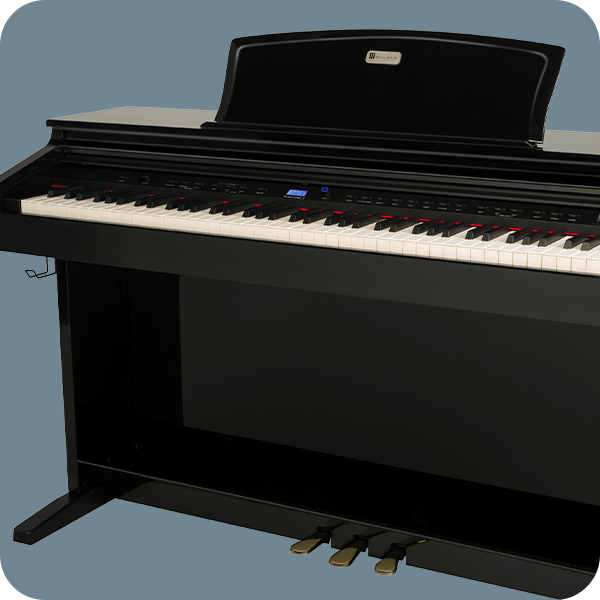 Great Feel
88 hammer-action, fully weighted keys provides an outstanding feel and response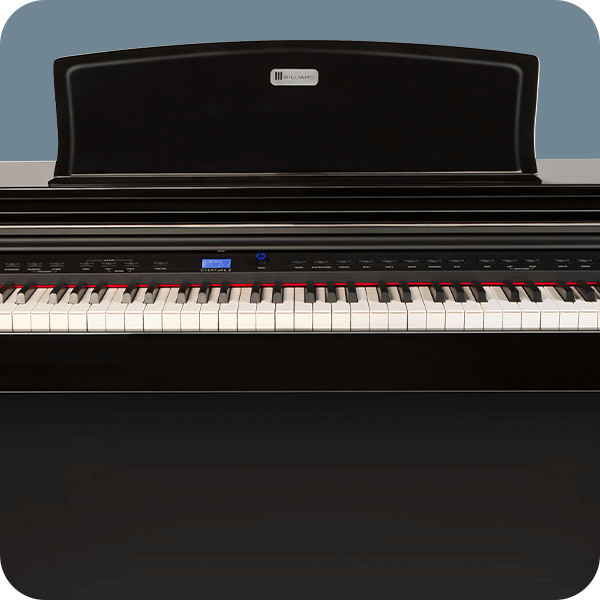 Elegant look
Best-in-class Ebony gloss finish for an elegant look with any decor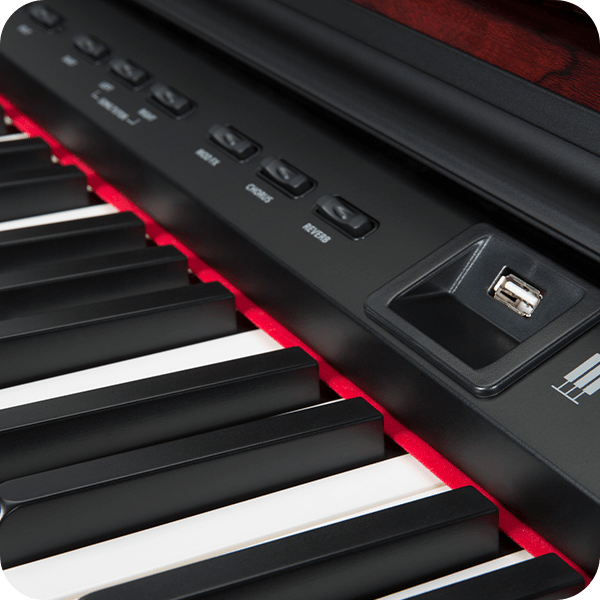 Connect Your Devices
USB/MIDI connection, MP3 input, stereo outputs with 1/4" and RCA jacks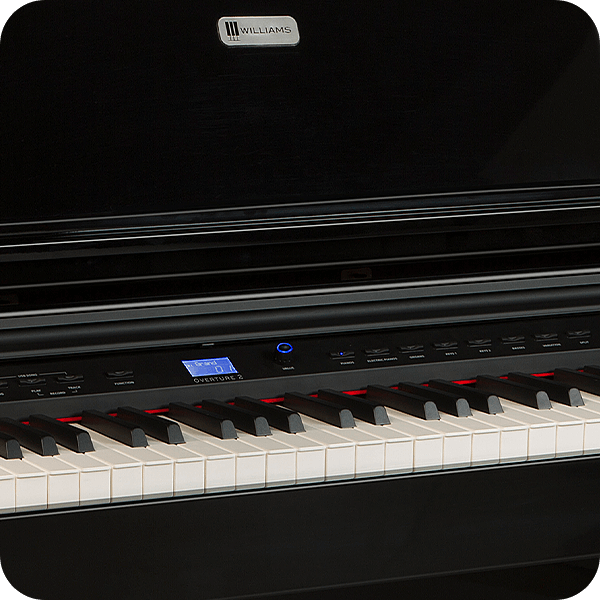 Fun and Engaging
Comes complete with a 2-track recorder for fun and practice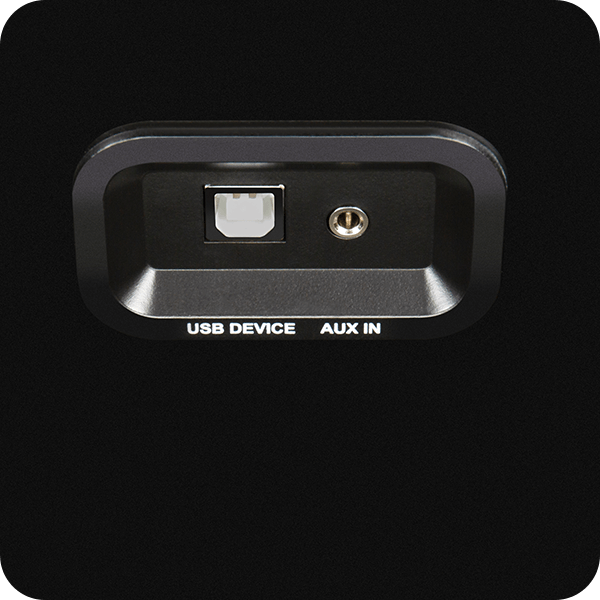 Connect Your Devices
USB/MIDI connection, MP3 input, stereo outputs with 1/4" and RCA jacks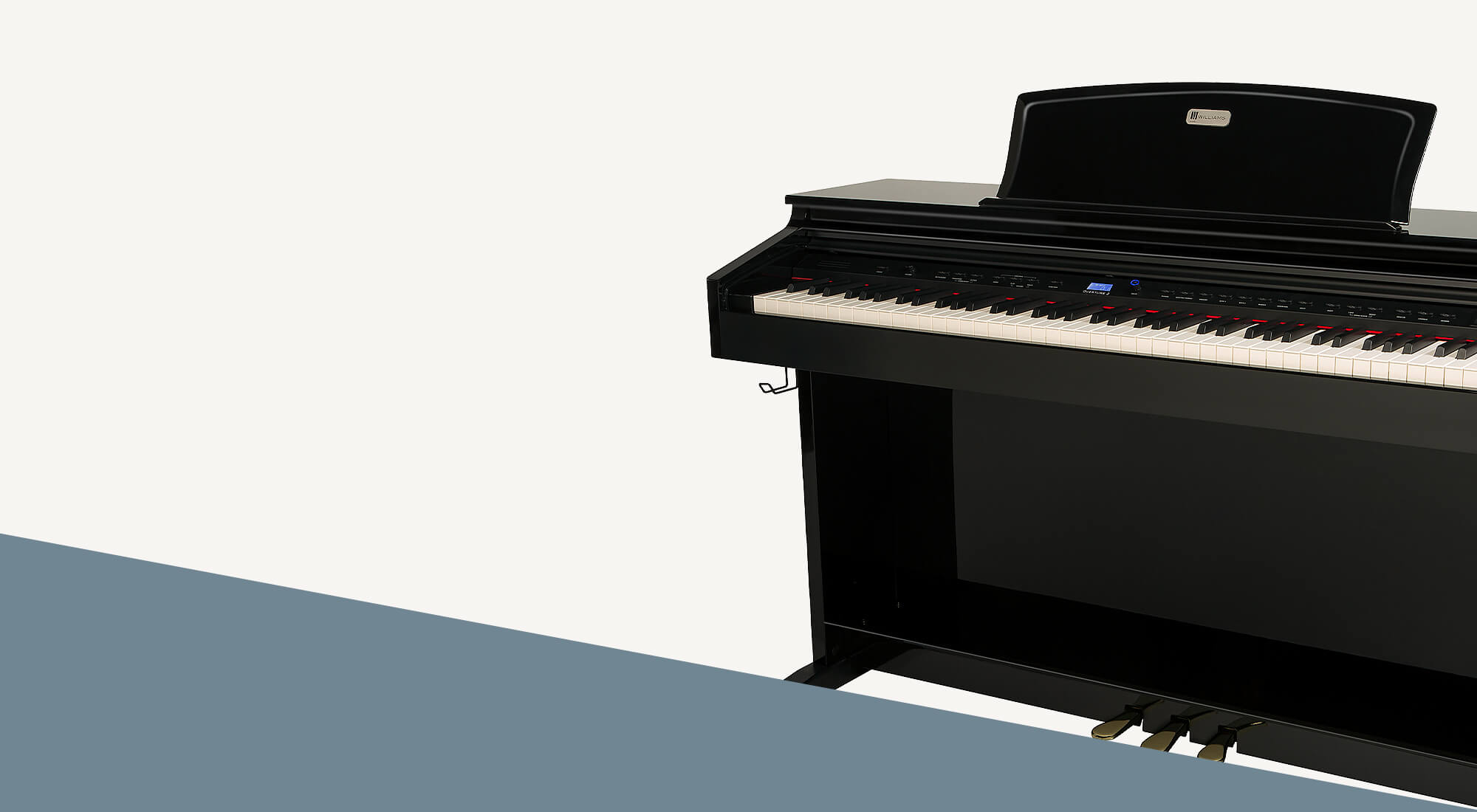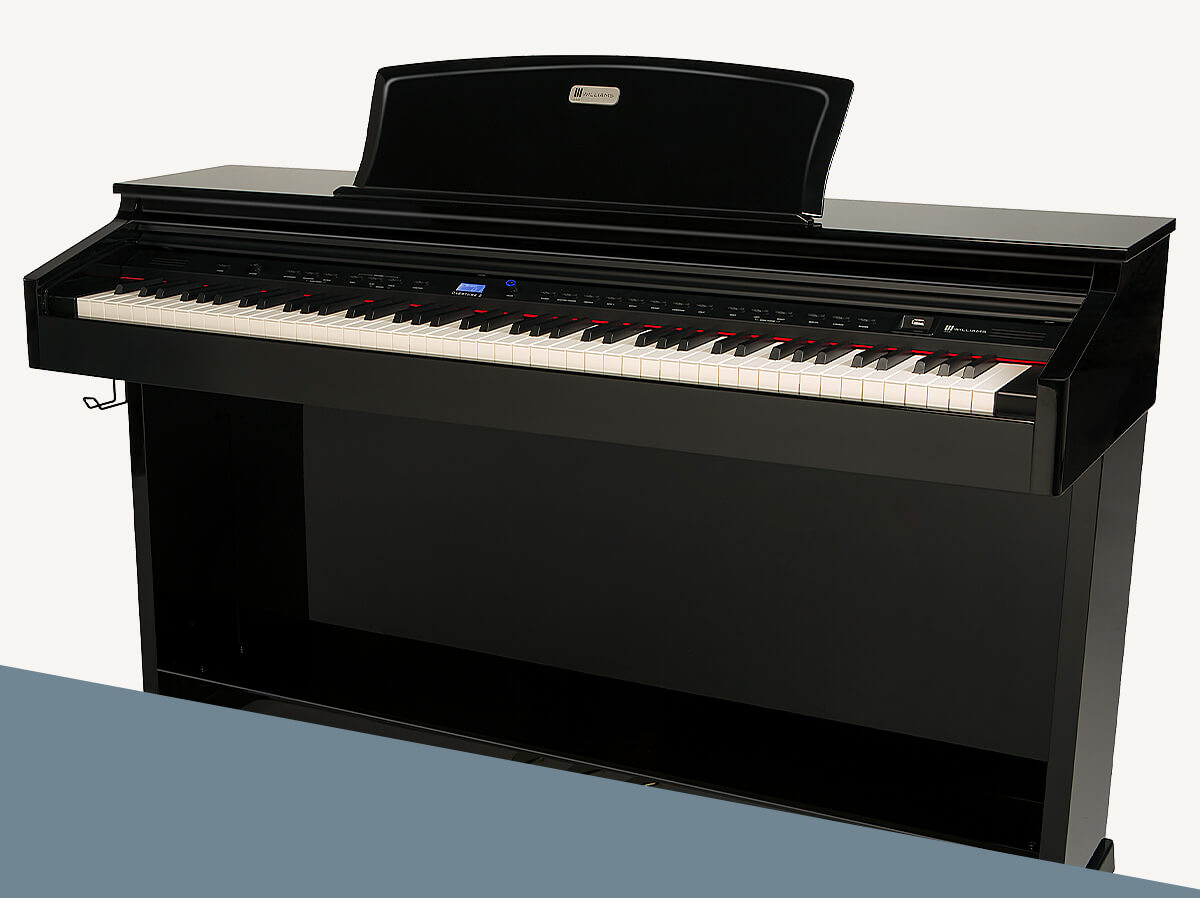 Song tutor books
Music books to use with the Song Tutor mode on the Overture 2
There are 3 sections based on difficulty. Advanced, Medium, and Etudes. The songs in the Williams Overture 2 Song Tutor mode are designed to help teach you several well-known Classical pieces. There are also some keyboard exercises to help you develop sight reading and left-hand independence. With the Right and Left-hand buttons on Overture 2, you can mute a part so that you can play it directly on the keyboard yourself. The first 10 songs on the Overture 2 are the most difficult pieces to learn. If you are a new piano student we recommend starting the Etudes first to practice sight reading and hand independence.
Features
Easy-to-read LCD touch-screen for quick and easy playing and option selections
250 Accompaniment styles with drums and backing tracks
Reverb, Chorus, and Modulation FX effect processors include Rotary, Phaser, and Tremolo
Eight-Speaker sound system for multi-dimensional, room-filling sound
Convenient two-headphone output to accommodate another player or instructor
Matching padded piano bench included
Includes Skoove LE interactive piano software which works with the key lights to help you learn to play
Enjoy 3 months of Skoove Premium

Customers who purchase an Overture 2 get a 3-month trial of Skoove Premium. This interactive software follows your keyboard and slowly builds playing and music-reading skills. Over 400 lessons are included from classical masterworks to the latest hits, and more are added every month. There are even live instructors standing by to help. Just follow the instructions on the Skoove flyer included with your piano to get your free trial and start learning today.
If your Williams Piano is missing the Skoove offer coupon, please contact Customer Service for your coupon code.
Overture 2
Digital piano console, fully-weighted hammer-action keybed